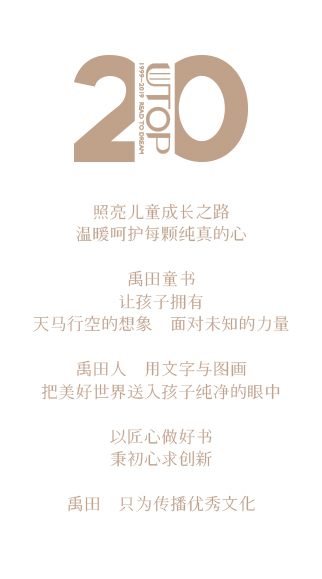 禹田文化传媒——只为传播优秀文化
禹田文化传媒(以下简称禹田)成立于1999年,是一家专业从事青少年读物的出版策划机构,旗下现有北京禹田翰风图书有限责任公司、北京禹田文化艺术有限责任公司、北京禹晨文化有限责任公司三家子公司,年均策划出版图书300余种。
禹田作为首批入驻中国北京出版创意产业园的童书出版机构,多年沉淀下形成了"暖房子绘本馆"、"长青藤文学"、"孩子国"、"千丨寻"等系列品牌。策划出版了"长青藤国际大奖小说书系"、"白鲸国际大奖作家书系"、"美冠纯美阅读书系"、"冰心奖获奖作家书系"、"暖房子经典绘本"系列、"非常班级"系列、"权威探秘百科"系列、"百年经典"系列等。
二十年来,禹田一直致力于为中国儿童出版好书,始终坚持"只为传播优秀文化"的出版理念,与国内外众多优秀作家、插画家有着良好的合作,其中包括秦文君、伍美珍、格日勒其木格•黑鹤、梅子涵、田宇、帕特里克•麦克唐奈、马克•杨森、威廉•乔伊斯、宫西达也等。禹田策划出品的百余种畅销图书,先后获得多项国家级和省部级大奖,得到行业及读者的广泛认可。
在深耕原创童书时,禹田也积极引进外国儿童文学大奖作品,以纽伯瑞金奖和银奖作品为主,荟萃欧美、日本等发达国家的知名大奖儿童文学,秉承"以大奖之名主张阅读,以阅读之力交换成长"的出版理念,以帮助儿童成长为己任,在引进外国儿童文学领域成为国内领先品牌。
2016年,禹田与比利时Clavis公司达成战略合作,将具有20余年历史的欧洲"Key Colours Competition"引入中国,并成功举办了首届"金钥匙绘本创作大赛",将创作者和出版者全面联结。
在"引进来"的同时,禹田积极扶持中国原创"走出去"。首届"金钥匙绘本创作大赛"金奖作品《猫先生和小小人》中文版现已出版,荷兰语版在欧洲同步上市,并成功售出英语、日语、泰国语版权。在2018年意大利博洛尼亚国际儿童书展上,禹田独立设展,展出的大量中国原创绘本精品,受到诸多国际出版人的关注。
作为北京市和新闻出版总署重点扶持的民营文化企业、少儿出版尤其是精品童书出版的主力军,下一个十年,禹田将持续关注少年儿童教育成长,秉承匠心,以更开阔的国际视野,坚持"只为传播优秀文化"的出版理念,为中国儿童讲好故事,出版精品好书。
UTOP
—— Read To Dream
CEO Mr. An Hongmin was majoring in art and ambitious to pursue art, he knew even as a young man that he wanted to be a painter. Majoring in art can lead to a variety of creative careers. So after

serving as the art editor in Foreign Languages Press many years spanning the 1980s-90s and beyond, he decided to move into the book industry that he built UTOP to compete with state-run publishers. Mr. An wants to make utmost efforts to put an intelligent and soulful take on the children's publishing genre, and make sure each of them will become a much-loved classic for future generations. The UTOP children's books are read nationwide and Mr. An' s design has redefining what children's books design was and is today.
UTOP was founded in June, 1999 by Mr. An Hongmin. For 20 years UTOP's continued focus is on serving the youth market. We have a highly successful list including many famous children's Laureates and also an extensive list of bestsellers in younger reader books, teen books and also young adult books. We established long-term relationship with HarperCollins, Scholastic, HMH, Macmillan, and Bonnier Group, etc. As a result, UTOP enjoys a wider readership in the entire book industry as a dominant player in China children's books market.

From cover to cover, the words, illustrations, and colors work together seamlessly to create a book for children to treasure. From beautifully illustrated picture books for young children to chapter books for older children, children's books are a delight for children and adults alike. UTOP values design for Kids books.

CEO Mr. An' s definition of design is derived from his personal experience and the voices of others in the book industry. "Design is a powerful force for change and motivation, and it is everywhere." said Mr. An " l have a special place in my heart for children's books. When we were young, they stirred our imagination and calmed us before we slept. Most of us can still remember many of the books from our childhood, and, if you're like me, the front covers of most of them as well.

Browse our selection of some of the very best design-forward books for little ones: like The Rat-a-Tat Bear, the screen-print style of the characterful illustrations lends a gorgeously hand-done style to the book. The artwork is purposefully and skillfully naive, and a consistent color theme is used throughout each book to create a uniform, elegant design.

Our mission is to foster a universal passion for reading by partnering with authors to help create stories and communicate ideas that inform, entertain, and inspire, and to connect them with Chinese children. Our dedicated team of publishing professionals is committed to helping authors realize their very best works and to finding innovative ways of bringing stories and ideas to audiences worldwide. By leveraging our global reach and collaborating with multinational publishing houses, we aim to provide them with the greatest platform possible.

UTOP is committed to serving society with the books we publish and to reflecting our belief in the power of books to connect and change lives.